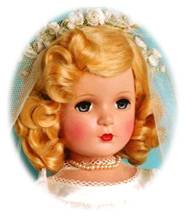 How To Order
PLACING YOUR ORDER
After you have selected a doll you wish to purchase, email us at [email protected]. Please include the name and number of the doll you would like to purchase. All emails will be answered and the availability of the doll made known. If the doll is available for purchase, we will then need your name, address and preferred method of payment.
PAYMENT Six-Month Layaway Available!
We know these are difficult economic times when many people are trimming budgets and cutting expenses. But it seems that at times like this we are most in need of some luxury and something to look forward to in order to keep up our spirits. So therefore we are introducing our "Something to Look Forward to" Payment plan option. We are offering a six-month layaway, with one sixth of the cost of the doll due at the time the doll is purchased and then one sixth due every thirty days. Of course, the balance can be paid anytime and the doll sent sooner. Shipping charges will added to the last payment.
We accept payment by check, money order and now Paypal is our preferred method of accepting credit cards. We can accommodate credit cards directly but strongly encourage and prefer payment by Paypal. Payment for Layaways must be made using your credit card only. We do not accept payment by Paypal for dolls in layaway. On layaway purchases, cancellations are not permitted and payments made to date will not be refunded.
If you have purchased a doll from us within the last year using your credit card, then we have it on file. If you wish to use a different card or have not ordered in one year, you may call 516-621-4883 and securely leave your credit card number on the voice messaging system. For using Paypal, now our preferred method of receiving payment, please send payment to: [email protected].
SHIPPING
We ship by UPS and we will advise you of shipping costs at the time we confirm your order.
QUALITY ASSURANCE
Each of the dolls offered here has been carefully examined and evaluated as being in top condition. Their clothing is correct in style and complete in every detail including underwear, socks and shoes. Each outfit is tagged appropriately. There is no shelf dust or fading. Each doll has hair is in the original style and face coloring that is bright and rosy. Boxes and wrist tags are present where indicated by the abbreviations MIB (mint in box) and W/T (the wrist tag that came with the doll originally). Please click on the following link for a full explanation of when a doll description states: "Vintage wrist tag included."
Vintage Wrist Tag
GUARANTEE OF SATISFACTION
If, in the unlikely case, you want to return your purchase, you may do so within three days of receipt in the same condition for a refund minus shipping costs. We cannot accept returns after that time period. If you used layaway payments to purchase your doll and the terms for the layaway have been met, dolls purchased using layaway can be returned for credit toward a future purchase.